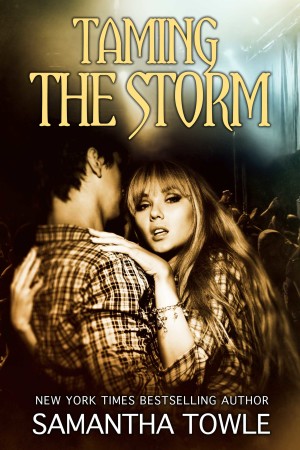 Synopsis
Lyla Summers hates men. Okay, maybe hate is a strong word … Lyla intensely dislikes men.

Her father has let her down her whole life. Her brother betrayed her in the worst way possible. And her past relationship experiences with men have been less than great.
Lyla is focussing all her energy into her band, Vintage, so when they receive an offer to sign with TMS Records, it seems that things are finally turning around for her. The last thing she wants is a man getting in the way.

Tom Carter loves women. Okay, love might be pushing it … Tom enjoys screwing lots of women.

When tragedy befalls his best friend, Tom finds himself making a promise to the big man upstairs – he'll change his ways, if he saves the woman his best friend loves.
Tom's prayer is answered. Now he has to change. Which means no sleeping around.

After Vintage's manager breaks her leg skiing, Tom steps in as tour manager, and Lyla finds herself on tour with the man whore of rock.

Put one perpetually horny Tom and one sex resistant Lyla together, equals a recipe for disaster. Or so you'd think…

But an unexpected friendship is formed. A closeness neither of them expected. Putting one chastity belt and one lamp that is in desperate need of rubbing, to the test.

Will the sex storm that is Tom Carter, finally find himself tamed by the rock chick with a hardened heart, or will he go back to his womanizing ways…?
My Review
HOLY BOOK HANGOVER! I AM IN LOVE WITH TOM AND YES I'M SHOUTING!!! OH. My. Gawd. Samantha Towle has moved to the top of my must read author list. I wanna scream from the mountain tops that everyone needs to drop what they're doing and read Taming The Storm. Here I was I love Jake, he's so hot, I wanna marry him blah blah blah. Then I meet Tom and the sky lit up. BAM. Fireworks. Little earthquakes exploded all over my body. CANNOT FUNCTION. HOLY MCFREAKINHOTNESS he is DELICIOUS!!!!
Anyway… on to my review since you can already tell that this one was a bookgasm for sure.
We meet Lyla. She's the lead singer of Vintage. Her band is up and coming and lucky for her, they're the opening act for The Mighty Storm at Madison Square Garden. The opening scene Taming The Storm will have your mouth hanging open! Here she is floating on cloud nine and BAM, her heart is broken. She swears off men and decides to focus on her career.
Months later, Lyla and her band members are beyond excited and thrilled with the opportunity to head on tour when her tour manager is unable to come. Guess who they choose to fill in—Tom Carter!! The Mighty Storm just so happens to own the record label Vintage is signed to and sends Tom as the replacement tour manager.
Yes, you heard me, Tom FREAKIN Carter—manwhore extraordinaire from The Mighty Storm. Women of all ages want him. They bow to his feet—ready, willing and thrilled to take whatever he has to offer. He is like the epitome of sex. Hot, tatted, incredible in bed, huge—oh, yeah, you can fill that in yourself. He avoids relationships, and hops from bed to bed. In Taming The Storm, he makes a promise to God to give up his whoring ways if He spares Tru and her baby. He can't bear to see his best friend Jake in pain and is willing to give it all up to ensure they make it through.
Lyla and Tom are thrown together on a tour bus for 6 weeks! Only problem is, Tom has lusted and (hit on) Layla in the past. She rejects him—something that never happens, but they can't deny their attraction to one another. How she does it, I have no clue. She has some freakin strong willpower.
"My mouth actually starts to water. I kid you not."
So did mine!!! HOLY CRAPPOLA!!! I don't wanna give too much away. You need to experience the magic lamp for yourself. You'll be wishing for your very own genie to bring you your own Tom to rub.
But, here they are—stuck together. They form a friendship and make a deal—one that I would never have been able to turn down.
That mouth. He is some dirty talker. I think I highlighted more than half the book!
"I'm gonna fuck you so hard that you're not gonna know where you start and I end."
WHAT?!!!! Let's go!!!!
They both have secrets and pasts that slowly seep out as they get closer and closer. Neither wanting to commit to a relationship—they jump all the way in and try to deny the feelings that they're building. HA! Impossible. How can you turn him down?!!!
The angst, the sex, the feelings, the characters—this book had it all. And did I love these characters. You fall in love with Lyla—she's a strong, amazing character who I totally had a chick crush on. There is so much more to Tom then his whorish ways. There's a lot buried under that bad-boy, talk-you-out-of–your panties man slut.
Taming The Storm and all of Samantha's books are incredible. It was as if she threw in everything I've ever wanted all in one book. The characters were kickass and the sexual chemistry was through the roof. Tom had me salivating. Talk about a hot as hell Book Boyfriend. You'll laugh, cry, and just wanna smash your kindle against the wall. But that's how you know how freakin good the book is. I sit here praying to all the Gods out there that we'll get more of these characters. Whether it be any other member of The Mighty Storm or Vintage—sign me up! I'm a Storm Trooper for life!!!
♥BUY YOUR COPY OF TAMING THE STORM♥
Amazon US | Amazon UK |Barnes & Noble | Kobo | iTunes US | iTunes UK | Smashwords

Schmexy Girl Interview Tom Carter
I got to sit with Tom Carter for our interview, and I don't know how I made it through without turning into a puddle of goo! He is SO FREAKIN SEXY!!! Enjoy!!! I did ;)!
Jen: What attracted you the most to your girl?
Tom: Her tits, for sure
Jen: Boxers/briefs/commando?
Tom: Commando
Jen: Suck or be sucked?
Tom: Be sucked
Jen: Top or bottom?
Tom: Top
Jen: Favorite place to have sex?
Tom: Anywhere with Lyla
Jen: What song would you use to describe your love interest?
Tom: Heaven by Bryan Adams
Jen: Favorite band besides your group?
Tom: Vintage
Jen: Favorite song to have sex to?
Tom: Gorilla by Bruno Mars
Jen: Craziest thing you've done as a rock star?
Tom: Fall in love
Jen: Kids or no kids? How many?
Tom: Next question!
Jen: Annoying habit that drives your girl nuts?
Tom: Apparently, I drive Ly nuts when I pick my teeth with a knife
Jen: Biggest turnoff?
Tom: False Teeth
Jen: How old were you when you lost your virginity?
Tom: Fourteen
Jen: Biggest musical influence?
Tom: Kurt Cobain and Jonny Creed
Jen: Where do you see The Mighty Storm in ten years?
Tom: Where we are now, still on top, still recording and touring
Playlist
iTunes playlist can be found here:
http://www.samanthatowle.co.uk/music
Excerpt
"But you said…" I frown.
He gives a slow shrug of his shoulders. "Never intended to sleep with her. I was just"—Tom rubs his head thoughtfully and then smirks—"putting on a show."
Mother. Effer.
He played me.
All that in there—he was just doing it to drive my jealousy to the front.
"You-you're a…mother-effing mut!" I hiss.
"Yeah, and you're the sexiest fucking thing I've ever seen in my life. Sleep well, Firecracker."
About the Samantha Towle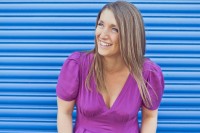 Samantha Towle is a New York Times, USA Today, and Wall Street Journal bestselling author. She began her first novel in 2008 while on maternity leave. She completed the manuscript five months later and hasn't stopped writing since.
She is the author of contemporary romances, The Mighty Storm, Wethering the Storm, and Trouble. She has also written paranormal romances, The Bringer and The Alexandra Jones Series, all penned to tunes of The Killers, Kings of Leon, Adele, The Doors, Oasis, Fleetwood Mac, Lana Del Rey, and more of her favorite musicians.
A native of Hull and a graduate of Salford University, she lives with her husband, Craig, in East Yorkshire with their son and daughter.
Connect With Samantha
Giveaway
Samantha is giving away:
· 5 ebooks Taming the Storm
· 3 ebook sets including The Mighty Storm, Wethering the Storm and Taming the Storm
· 1 signed paperback set including The Mighty Storm, Wethering the Storm and Taming the Storm (open international)
---
♥READ THE BOOKS THAT STARTED IT ALL!♥