My book  boyfriend this week is HOT, SEXY, AND MELT-YOUR-PANTIES swoon worth!!! He is Tom FREAKIN Carter ladies from Taming The Storm!!!
Tom is everything I want in a Book Boyfriend. He is a "mut" or a man-slut, and for some reason, I just am drawn to book boyfriends who are assholey at first. I haven't been able to stop thinking about him since finishing Taming the Storm weeks ago. Just one look at him and you know you're a goner!!!
Jesus is he beautiful!!! Lyla tries so hard to resist him, but it's impossible. I wouldn't be able to. She wants to dislike him, but her body doesn't. And can you blame her? She so physically drawn to him, but she falls for him emotionally too. How could you not? His words, his touch, his smell, the way he draws her in. There is just no way you could turn him down.
Yes, he is/was a manwhore, but he is trying so hard to redeem himself and change his ways. He was wild and crazy, basically screwing every woman that crossed his path. He has a big heart though, and he just is so afraid to committ. The heat, the chemistry between Tom and Lyla is scorching!! I was DYING!!!
He makes me crazy. I can't read his words without getting the tingles ALL OVER!! Have a little peek into Lyla's mind:
"And I say session because sex with Tom is not a wham-bam-thank-you-ma'am affair. No, sire. He's the kind of guy who believes in oral and more oral, and sex and more sex, until I think I might die from orgasming too much.

I wonder if you can die from too many orgasms."
I COMPLETELY agree with Lyla:
"If you can, then…what a a way to go. I'd definitely want to die from a Tom Carter orgasm."
Sign me up!!! I NEED one!!! OMG he is panty melting!!!
You MUST meet Tom. You will dream about him, day and night. You will fantasize about all the things he will do to your body. You will want him to show up at your door asking you to "rub the lamp". He is just the ultimate Book Boyfriend.
Take another look!
I'm telling you ladies, Taming the Storm is a MUST READ!!! TOM IS HAWT!!! Go one click!!!!
About Samantha Towle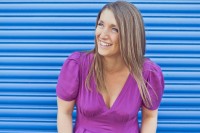 Samantha Towle is a New York Times, USA Today, and Wall Street Journal bestselling author. She began her first novel in 2008 while on maternity leave. She completed the manuscript five months later and hasn't stopped writing since.
She is the author of contemporary romances, The Mighty Storm, Wethering the Storm, and Trouble. She has also written paranormal romances, The Bringer and The Alexandra Jones Series, all penned to tunes of The Killers, Kings of Leon, Adele, The Doors, Oasis, Fleetwood Mac, Lana Del Rey, and more of her favorite musicians.
A native of Hull and a graduate of Salford University, she lives with her husband, Craig, in East Yorkshire with their son and daughter.
Connect With Samantha