Showmance by L.H Cosway is LIVE!!! #DamonAndRose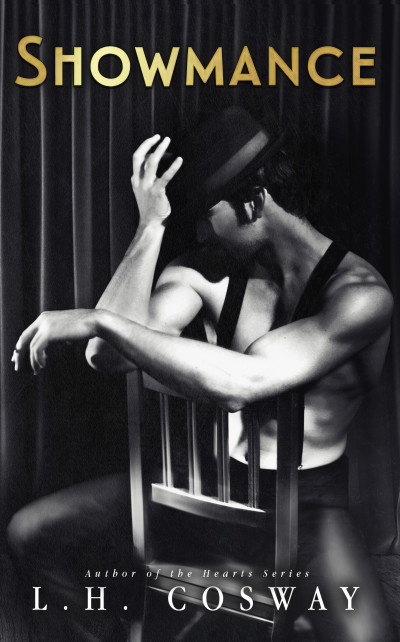 Synopsis
Damon Atwood was Hollywood's golden boy. Having won an Oscar at the tender age of thirteen, he had the life many could only dream about. But his success came at a price, and after a short but fruitful film career, he chose to live a life of obscurity on a remote Scottish island. Almost a decade later he's finally ready to make his return, starting with a lead role in a musical on London's West End.

As a choreographer's assistant, Rose Taylor has always faded into the background. She watches shows come to life from the side lines, but has never craved the attention of stardom. When rumours begin circulating of Damon's involvement in her latest gig, she doesn't predict how she will be thrust into the limelight, nor how the mysterious and strangely introverted man will need her to teach him how to be a star again.

Rose knows that show crushes don't last. Actors fall for each other during the intensity of a production, often losing themselves in their roles. These kinds of affairs burn bright and then they fade. The question is, should Rose let herself shine with Damon, or guard her heart from being broken after the final curtain call?
Roxie and Jen's Review
Haven't you always wanted to see what it's like behind the scenes of a Broadway or West End show?
We know what happens on the stage, the magic that comes to life. But when there's a room full of hot actors and dancers, you can't help but wonder if there's a love story behind the curtain.
In L.H. Conway's latest release, she gives a peek of what it's really like working on a big musical production in London's West End. We both love L.H.'s writing, so we couldn't wait to dive in.
We meet Damon Atwood, a to die for actor known for having won an Oscar at only 13. He leaves fame and fortune behind to return to his Grandmother's hometown to make a new life for himself. Year's later, he returns to London to star in a musical.
Rose Taylor works as a choreographer's assistant. She prefers to remain in the background, avoiding the stage like the plague. With issues of her own, Rose steers clear of actors at all costs.
When the two meet, they form a awkward but sweet friendship and their attraction is undeniable.
"The man was such a contradiction, with the rugged good looks of a heartthrob and the personality of a hermit just coming out of hibernation."
With the stress of a huge show in the making, the pressures of stardom and meddling costars, Damon and Rose hit many roadblocks.
"You have no idea the kind of betrayal I've suffered in my life… This friendship I have with you is a big deal. I haven't let someone into my life like I have you in years."
Their romance was a slow burn, almost a little too slow at times, but we liked it nonetheless. L.H. Conway is a fantastic writer, and Showmance was a truly enjoyable story.
"I'll always pick you first, petal."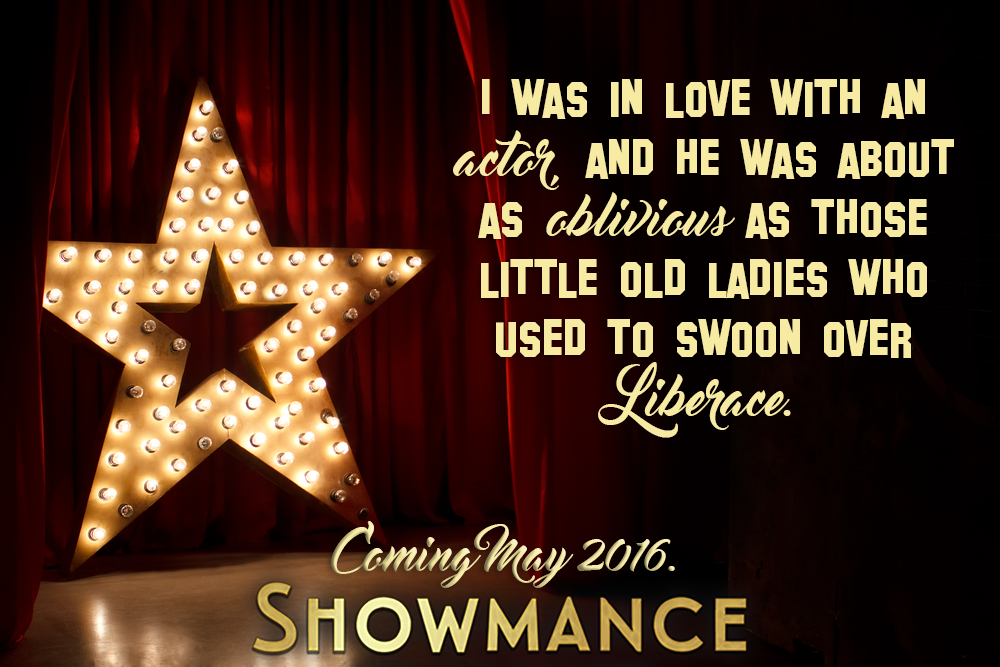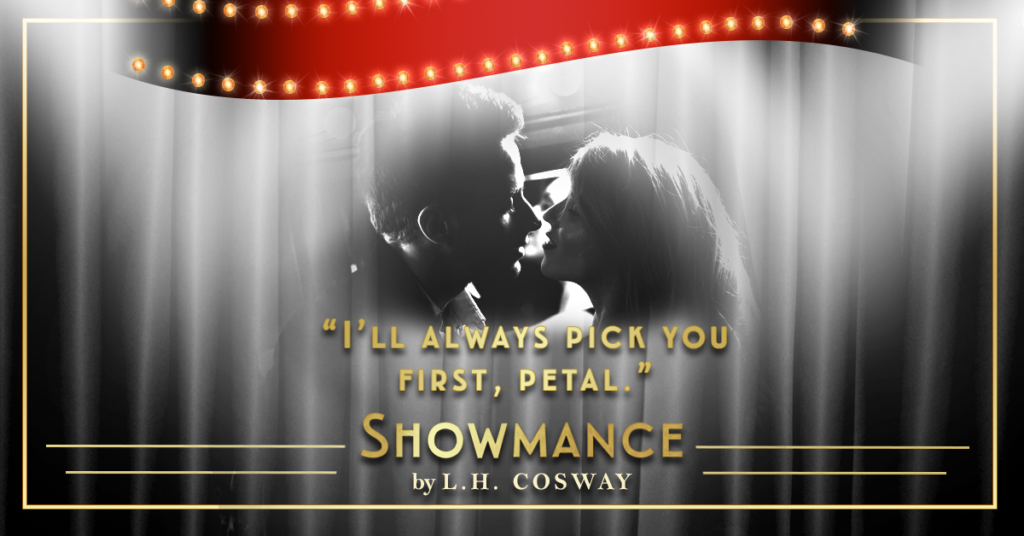 ♥ BUY THE BOOK ♥
Amazon UK | Amazon DE | Amazon AU | B&N | iTunes | Kobo
Excerpt
"Well now, who's this?" Julian asked as he slid up off the couch, where he'd been lazily scrolling through his tablet.
I chanced a quick, reassuring peek at Damon before answering my friend. "This is Damon. He's in the cast."
Julian groaned as he approached, his chestnut hair sitting messily atop his head. "Oh please, Rose, not another actor."
I glared at him, trying to channel as much 'shut the hell up' into my eyes as possible. My flatmate didn't really have a censor. A moment of quiet ensued while Julian circled Damon, taking his measure. "You don't look like an actor."
The edges of Damon's mouth twitched for the briefest second. "Thanks."
"He's got a sense of humour, too. He'll go far," Julian grinned in my direction then sauntered into the kitchen. "I'm starving. Are you cooking dinner?"
"Aren't I always," I sighed and then asked Damon if I could take his coat. He shrugged out of it, his eyes not leaving me all the while, and then I went to hang it on the rack by the door. On my return he bent to ask curiously, "Another actor?"
I took a moment to absorb the sensation of his breath hitting my skin. It was…not unpleasant. Julian, who I swear had the hearing of a bat, didn't miss a beat as he let out an amused chuckle. "Rose has a weakness for those in your profession."
Damon looked at me in question. I strode over to the breakfast bar, again glaring at my friend. "Yes, well, I've sworn off all thespians after the last disaster, so Damon here is safe."
"What disaster?"
For someone who claimed not to be a big talker, he sure had a lot of questions.
"Ever heard of Blake Winters?" Julian chirped, plucking an apple from the fruit bowl and taking a big bite.
Damon shook his head. Julian scrunched his brows.
"Have you been living under a rock?"
"No, I've been living on an island," said Damon.
Julian cocked his head to the side, as though trying to figure out if he was being sarcastic. "Well, he's an actor, like you, and he sleeps around. Rose had the great misfortune to have her head turned by the young Mr Winters. He seduced her and then left her in the lurch, the swine," Julian pouted his lips, effecting a disapproving expression.
"Sounds like an arse," Damon put in and both Julian and I began laughing.
"I like this one," said Julian.
I grinned as I thought, yeah, me too, and found myself suddenly blushing.
Giveaway
L.H. Cosway's SHOWMANCE Release Week Blitz Giveaway
Playlist
Listen to the amazing playlist on Spotify HERE
About L.H. Cosway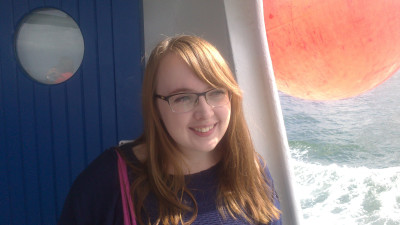 L.H. Cosway has a BA in English Literature and Greek and Roman Civilisation, and an MA in Postcolonial Literature. She lives in Dublin city. Her inspiration to write comes from music. Her favourite things in life include writing stories, vintage clothing, dark cabaret music, food, musical comedy, and of course, books.
She thinks that imperfect people are the most interesting kind. They tell the best stories.
Connect With L.H.
Facebook | Twitter | Mailing List | Pinterest | Website