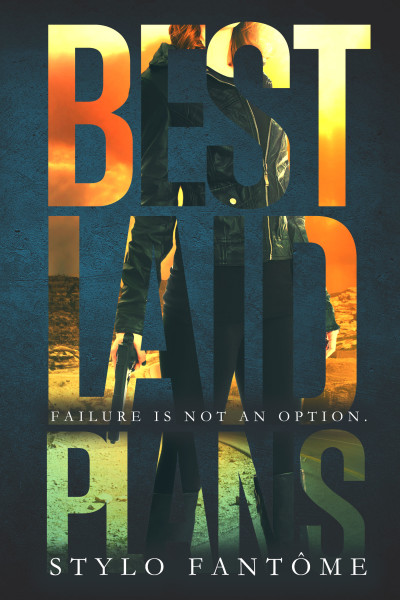 Synopsis
THE PLAN:

* Smuggle diamonds from Liberia to Morocco

* Make the trip in three days

* Don't get caught

* Don't kill each other

* Don't have sex with each other

* Don't fall for each other

* Stick to the plan

This is the story of what happens when an unlikely bond is formed between enemies, causing tensions to rise, and igniting a chemistry that threatens to burn them both. Together, they'll learn that sometimes even the best laid plans can fail.
If this NOVEL were a MOVIE, it would have an R rating from the MPAA. Contains: Violence, Grisly Images, Strong Language, Nudity, and Graphic Sexual Content.
Roxie's Review
If you looking for a fast paced, high octane ride….. Put your kindle in gear. Buckle up!!!! This is the book for you!!!!
Lily and Marc, a transporter and a mercenary. They were hired for a job and let's just say that things got complicated, very complicated. What originally was just a heist and transfer of goods became a cat a mouse game with their lives at stake.
This story plays as an action packed movie on the pages of a book. You have all the ingredients needed:
Ruggedly hot hero—Check
Kick ass heroine—Check
Russian bratva—Check
Stolen diamonds—Check
High speed car chase—Check
Shoot outs—Check
Bad guys—Check
Off the charts hot sex—Check
"He jackhammered his hips against her, and she screamed. His hand on her neck moved to her shoulder, actually yanking her back against him. Pushing her down harder on his cock. She started to come, and in true Marc fashion, he just fucked her harder. Her whole body went into seizure mode, shaking and shuddering, all while one of his fingers tapped along with her ticking muscles."
Excuse me while I climb into the freezer…
Having the danger filled-Africa as the backdrop makes this story unique and exotic… Marc is a loner, a mercenary with no attachments, a criminal for hire. For the right amount of money he will take any job.
Lily, a transporter for the Russian mafia. She did some things that she isn't proud of to get where she is now. She's been preparing for this job for a long time and the end game for her is just around the corner.
Our characters transformation from enemies to partners is a modern day Bonnie and Clyde through the back roads of Africa as they both try to stick to the plan. Is their plan really the same? Will their objectives falter as they navigate through obstacles from Liberia to Morocco ?
"So much trouble. So many rocks. Such little rocks. She'd never seen them all out before, spread out like they were. They didn't seem quite as impressive. No weight, no heft. Just individual rocks, tiny and insignificant. Just individual days, tiny and insignificant.

They looked so pure, so clear, that to think of what they represented was such a contrast. Illegal mines. Indentured slaves. Gang wars. Bratvas. Mafias. Corporations. Murders. Theft. Her life. Marc's life… "
As they race to the finish line the rules have changed, feelings get stronger and even best laid plains can go wrong under certain circumstances.
Stylo Fantome gives us something completely different with each of her books. You just never know what to expect when you pick her work up. Her stories are one of a kind and unique each and every time!
Amazon US | Amazon UK | Amazon CA | Amazon AUS
*Available on Kindle Unlimited Program for free. The $.99 release price will be good through Sept. 8th and then it goes up to $2.99.*
Excerpt
She came back around to his front and watched him as he loaded up the rest of his gear. Thigh holsters, shoulder holster, ankle holster; pretty much anywhere he could hang a gun, there was a holster. When he glanced at her, she had her eyebrows raised in surprise.
"What?" he looked himself over, looking to see if he'd missed anything.
"That's a lot of gear," she commented.
"Can never be too careful. I don't feel like dying tonight."
"Why are you getting ready here, anyway? Don't you have a home?" she pointed out. He snorted.
"Sweetheart, the job starts here and ends here. I don't want anyone following me back to my place – not even these fuckers. I don't let anyone see where I sleep," Marc stressed. She pouted her lips.
"Pity."
"Why?"
She stepped up close to him, standing on her tiptoes so her mouth was near his ear.
"Because I'd love to see where you sleep."
About Stylo Fantome
Crazy woman living in an undisclosed location in Alaska (where the need for a creative mind is a necessity!), I have been writing since …, forever? Yeah, that sounds about right. I have been told that I remind people of Lucille Ball – I also see shades of Jennifer Saunders, and Denis Leary. So basically, I laugh a lot, I'm clumsy a lot, and I say the F-word A LOT.
I like dogs more than I like most people, and I don't trust anyone who doesn't drink. No, I do not live in an igloo, and no, the sun does not set for six months out of the year, there's your Alaska lesson for the day. I have mermaid hair – both a curse and a blessing – and most of the time I talk so fast, even I can't understand me.
Yeah. I think that about sums me up.
Connect With Stylo
Facebook | Twitter | Goodreads | Amazon Author Page | Instagram