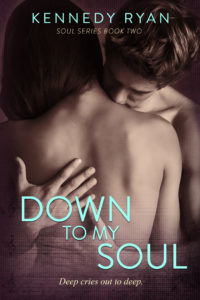 RHYSON

She doesn't wear my ring.
We never stood before a preacher.
The only vows exchanged were between our bodies; between our souls.
But she was mine and I was hers until I ruined it. I have to believe that every day, every step, every breath brings me closer to making things right.
To making her mine again.

KAI

I've seen promises broken.
I know love makes no guarantees.
But things were different for Rhys and me, until he lied, and I walked away. Only there's a chain between our hearts that I can't break. Even if I forgive him, a shadow from my past hangs over us; over this love that reaches all the way down to my soul.
My Review
Down To My Soul is the second book of the Soul Series by Kennedy Ryan.  If you have not yet read My Soul To Keep this review may contain spoilers for that story.
And we're BACK!  Kai is on the road, Rhys is at home, and they are not together *insert sad face*  This hurts, like physically hurts to go back to because these two are so perfect for each other that it upsets me that they have hit this bump in the road.
"This is just a pause, a comma, but our relationship runs on." ~Rhyson
Things are rocky still.  Rhys is trying to win her back (just think mistletoe) and Kai misses him but she is as stubborn as ever this time around.  Rhys proved to me more than ever that he is in this 100%, not that I ever doubted him.  His persistence with Pep and his goofiness made me love him even more.  Kai really struggles with her decisions at every turn, as hard as that was for her I also had a hard time with her procrastination.  I was consistently frustrated with her throughout the story.  I wanted to shake her and tell her to just get on with it!!!  The type of love that we know these two have for one another is really challenged and tested in this story.  Lines are drawn, compromises are made and limits are pushed but there is not denying that they belong together.
"By now I know Kai like the first Bach symphony I ever learned.  Literally I could play it half asleep.  I anticipate Kai like my next heartbeat…"
Down To My Soul defines love and forgiveness, both kinds.  They may never forget what they have been through and done to each other but they will always forgive, because that's what you do.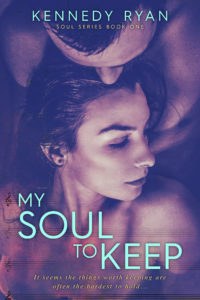 Book 1 – My Soul to Keep
*Add the Audio Book for only $1.99!
 About the Author
I just can't write about myself in third person for one more bio! I'm a wife, a mom, a writer, an advocate for families living with autism. That's me in a nutshell. Crack the nut, and you'll find a Southern girl gone Southern California who loves pizza and Diet Coke, and wishes she got to watch a lot more television. You can usually catch me up too late, on social media too much, or FINALLY putting a dent in my ever-growing To Be Read list! I love to hear from readers at kennedyryanwrites@gmail.com.
Connect with Kennedy Ryan
Mailing List | Facebook | Amazon | Twitter | Book Group | Instagram