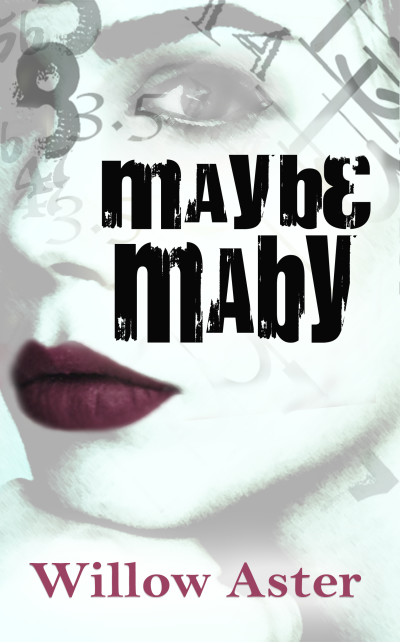 Synopsis
Mabel Armstrong is on the verge of giving up. But just when things feel bleakest, there seems to be a shift in the universe. People come out of the woodwork. Her ex won't leave her alone. An old friend finally tries to become more. Even the cute guy at the coffee shop starts paying extra attention. Maybe Maby is a heartbreaking, and at times, hilarious story about coping with loss, finding love in New York, and learning to recognize hope in the middle of it all.

My Review
I have a secret crush on Willow Aster. Yep. There, I said it. I think I stalk her more than any other author. True Love Story and In The Fields are two of my all time favorite books—didn't think I could love her any more than I did. Then she writes Maybe Maby and stole another piece of my heart. I fell in LOVE with these characters, and her writing gets better EVERY. TIME. God, does she have a way with words. One minute you're crying, the next you're laughing, and the entire time you're cheering for Maby to get the Happily Ever After she desperately deserves. All written in true-Willow Aster-perfection—the combination will have you glued to your kindle from start to finish.
This is a story of Mabel, or Maby, Armstrong. She suffers from obsessive compulsive disorder, a serious condition which can be debilitating and cause extreme depression.
She doesn't feel worthy of love and has experienced such a great loss that has only exasperated her condition. She is so down on herself, feels so unworthy, and there are days where she just wants it to all come to an end.
"I feel like a buoy, bobbing out in the middle of the vast ocean with not another soul in sight. Tiny and insignificant compared to the water, I can't seem to let the water take me all the way under, not matter how hard I try. I don't want to do this anymore. I don't want to be anymore. I pray God will untether whatever is holding me afloat and just let me drift off into nothingness."
She has a demanding wench of a boss, a cheating douchnozzle ex who wants back in the picture, a best friend who would love more, and a charming barista who seems to come into her life at just the right time. She has been dealt a shit hand losing her mother and her boyfriend right around the same time. She is going "crazy" and can't seem to get a handle on her emotions. Couple that with her out of control OCD, and you can say she feels as if she's completely losing it.
Dalton Douchenozzle wants back in her life. He kind of "appears" out of nowhere and tries to win back Maby's heart. He "regrets" losing her and tries to worm his way back in—trying to break down the walls he doesn't seem to remember he caused her to build.
"…we've gone through a lot together. You are the first girl I ever loved. I've always regretted what happened between us."
And then there's the best friend—Saul Mayes—the one she kissed. The one she thought she could have loved. He was there, and then he wasn't. He was Dalton's best friend and when things between Maby and Dalton went to shit, he ran. Bastard. But when he reappears, he also feels as if he could win Maby's heart. I was all "I love Saul" until I met Coen.
Coen is the beautiful barista I mentioned earlier and OMG did I fall hard for Coen!!! Coen, Coen Brady… JESUS, I freakin LOVE him!!! He is EVERYTHING you want in a man. And this is all part of Willow's gift. She creates a man that you just fall head over heels for. He is beautiful, honest, kind-hearted, and loves with his whole heart. It's like he was put on Earth to love Mabel—all of her. And boy does he bring the lips!!!!
"…I'm gone where you're concerned, Maby. Gone. And you're not there yet. But once I'm inside you…"He looks in my eyes when he says that and I get so lightheaded, I have to close my eyes. His fingers lift my chin and his lips touch mine. His tongue softly traces my lips and I tremble. "Once I'm inside you," he whispers, "I'm not gonna be able to let you go."
I just melted. SWOON. Brain=mush. LOVE. HIM. He is patient when she needs it, loving when she craves it, and seriously goes above and beyond, moves heaven and Earth to show Maby how crazy he is about her.
I LOVED them together. They balanced each other out. Ying and yang. I LOVED this book and I want more!! Maby is a quirky, lovable and makes your heart full. You travel with her through her transformation as she tries to find happiness and you will love every minute of it!!!
About Willow Aster
Willow Aster is the author of True Love Story, In the Fields, and Maybe Maby. She lives with her husband and two kids on a tropical beach in paradise. Well, at least part of that is true … the rest is Story Lala Land, where Willow spends most of her time.