Synopsis
"Marry me."
"What?" I stared back at him, unblinking.
He moved closer, taking my face in his hands. "I love you, Evie. I look into the future, and the only thing I see clearly is you. Marry me."

What's an eighteen-year-old girl who was madly in love with her nineteen-year-old boyfriend say?

Of course, I said yes.

Twenty-four hours later, I married Adam Gunner at a Vegas chapel to the sounds of "Livin' on a Prayer" by Bon Jovi. Not the best omen. I get that now.

Then, exactly one week later, I left him. I walked out, leaving behind my wedding ring, annulment papers, and my heart, and he never knew why.

I haven't seen him since. Not in ten long years.

Now, he's here, standing before me. Looking at me with nothing but hurt and hatred in his eyes, he wants answers.

Answers I can't give.
Roxie & Jen's Review
We both love second chance romances, so we couldn't wait to dive into Samantha Towle's latest book. She's a favorite of ours, and the synopsis really grabbed our attention. A great second chance romance that we enjoyed.
Adam and Evie. Sigh… A love of a lifetime cut short so abruptly that Adam never has the chance to move on. He seems to search for her in every face he sees. He longs for answers, but can't seem to get any. He buries his pain in all the wrong places and is so lost.
Evie thought she found her forever love on the rock overlooking the beach. He was everything to her. And God did we love him. We were shocked when she vanished.
We needed answers and kept yelling WHY?!!! As the story unravels between past and present, we learn so much about Adam and Evie and how strong their love was. When they meet again, we both couldn't wait to see how the story evolved.
"We're two almost strangers with a world of hurt sitting between us."
When we finally learn about the circumstances that tore them apart, we were so angry. Life is really unfair!!
"How do I tell him that leaving him was the hardest thing I ever had to do, and it broke me?"
While Samantha's writing is fantastic and we truly loved these characters, we missed the British flare!
About Samantha Towle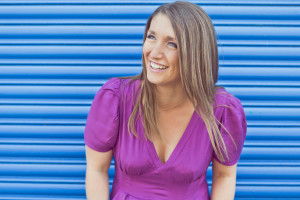 New York Times, USA Today, Wall Street Journal and international bestselling author Samantha Towle began her first novel in 2008 while on maternity leave. She completed the manuscript five months later and hasn't stopped writing since.
She has written contemporary romances, THE MIGHTY STORM, WETHERING THE STORM, TAMING THE STORM and TROUBLE.
She has also written paranormal romances, THE BRINGER and the ALEXANDRA JONES SERIES, all penned to tunes of The Killers, Kings of Leon, Adele, The Doors, Oasis, Fleetwood Mac, and more of her favourite musicians.
A native of Hull and a graduate of Salford University, she lives with her husband, Craig, in East Yorkshire with their son and daughter.
Connect With Samantha